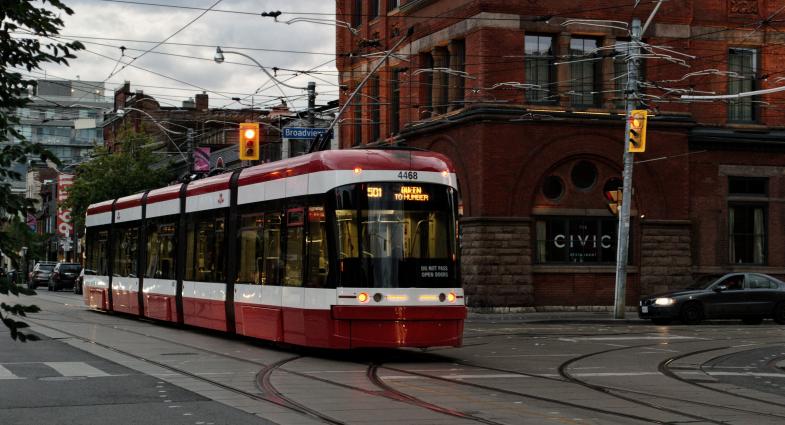 Many learners use Toronto Pearson International Airport for air travel. You will find information about how to get to and from the airport on the Toronto Pearson International Airport website.
It is easy to go from place to place in the city using Toronto's public transit system, known as the TTC. The TTC network includes buses, subway trains and streetcars. You can find directions to the University of Toronto St. George campus here. The U of T Ontario Institute for Studies in Education (OISE) building, where the English Language Program is located, has direct underground access to and from the St. George subway station. The closest entrance/exit at the St. George station is on the Bedford Road side.
TTC Fares
On the TTC, most trips within the City of Toronto cost a single fare. Your single fare also includes a free two-hour on/off transit period. Travel in the city is less expensive if you purchase a Presto card and a monthly pass instead of paying cash each time. There is an initial $6 fee for a Presto Card before you load money or a pass onto the card.
How much do the TTC/Presto fares cost?
Cash Fare: $3.25 (one trip) (or $2.30 with proof of age up to 19 years old)
Presto Fare: $3.20  Once you tap your card, you have two hours to hop on and off public transit until you would be charged again when you tap your card. You should always tap your card when boarding TTC transit (or you may be fined by an inspector).
Monthly Pass: $156.00 (Unlimited travel but must tap card each time) Only available for purchase 12 days before the next calendar month and until 8 days after the start of the month. ELP students should buy the adult monthly pass (since the student pass is only for full-time post-secondary undergraduate/graduate students with TTC Photo ID).
Presto Ticket: $3.25 (one-ride), $6.50 (two-ride), or $13.50 (day pass)
The information above is based on prices as of March 1, 2020. The TTC website has maps and more details about fares and routes.