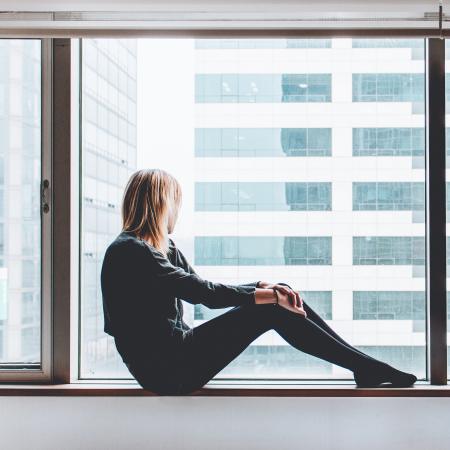 Networking Instructor Jean Chow Shares Ten Tips to stay Connected.
When the spread of a highly infectious illness demands that people physically distance themselves from their communities in order to keep everyone as safe and healthy as possible, it can be easy to feel disconnected and lonely. That's why it is vital to find ways to maintain connections through this time of crisis.
SCS networking instructor Jean Chow says she keeps a quote from Rev. Cecil Williams above her desk to remind her just how important our connections to one another are.  The quote says "We need this. When we meet face to face, we become human. We lift each other up."
Chow often asks her students what networking means to them, and the answers she receives (building relationships, meeting new people, making friends, socializing) all fall under the umbrella of connection. That's why she says networking skills can help stave off feelings of isolation and loneliness during times of physical isolation.
While modern technology makes connecting from afar easier than it has ever been, Chow says it's important to consider who you are connecting with and what their needs might be. "As a Boomer, we tend to default to email but I'm mindful when connecting with my younger friends (IG DM and WhatsApp) and my 22-year old niece (FB messenger) by choosing the media channel they use frequently," she says.
Chow also recently switched to video conferencing for the classes she was no longer able to conduct in person. "I've transitioned my in-person classes on-line on quite seamlessly and as someone who is very social. I'm delightfully surprised how much I love teaching virtually," she says.
Meanwhile, for connecting with loved ones, she has been making use of video and phone calls. "I had planned an Easter visit to be with my 90+ year old parents in Calgary but of course, my visit has been postponed so I call now them daily, sometimes twice a day instead of our usual Sunday weekly call," she explains. "This ritual provides all of us tremendous comfort and assurance. Hearing them say they love me every night means so much to me. My siblings also live in Calgary so they help connect me with our parents through video calling on WhatsApp and Facebook Messenger. My Dad loves touching the screen!"
In addition to video and phone calls, Chow maintains an active social media presence to connect with students, mentees, colleagues, acquaintances and even strangers. She recommends anyone trying to stay relevant within their business network make an effort to post comments and content to LinkedIn.
As a single woman who has called many countries home, Chow says she is no stranger to finding ways to stay engaged and happy from a distance. Here are her top ten tips to stay connected while social distancing:
1. Keeping a journal – digital or paper – gives you a place to offload your thoughts. I also have a blog and contribute and share posts and articles on LinkedIn.
2. Do something nice for your neighbours whether you live in a condo, apartment building, or a house. Check in while maintaining social distance and ask if you can pick something up for them if you are making a trip to the grocery store.
3. Connect with nature. Walking meditation helps and a good one can be found in "Peace is Every Step" ~ Thich Nhat Hanh
4. Meditate even for 5 minutes to help clear your mind.
5. Learn something new! With so many ways to learn online – YouTube, IGTV, Coursera, etc., most of us have access to so much. We are fortunate because not everyone has Internet access. I'm sad to see on Twitter that people who don't have Internet access gather around the exterior of branches of the Toronto Public Library trying to find a way to log in if they have cell phones. It also shows us the value of our libraries and social services.
6. Some establish new routines immediately. It grounds them and gives a sense of control. As a creative, I maintain some routine to get work done while also allowing (and sometimes scheduling) time for my mind to wander and be free.
7. Move! Make sure you don't sit in front of your computer all day. Stretch! Jump! Dance! Do the Wonder Woman power pose made famous by Professor Amy Cuddy! And if you haven't yet, watch her TED talk!
8. Pick up the phone and call someone you love, someone who lives alone, someone you're thinking of.
9. Take the initiative and identify someone you can help by introducing them to someone in your network who can help, mentor, share their expertise and experience.
10. Breathe and be thankful for all that you have this moment. The universe will unfold as it should.
Jean Chow is a serial entrepreneur, business coach, and mentor. She teaches Fearless Networking: Connecting Creatively and Confidently at the School of Continuing Studies.