Professional Edge Program
Starting your career after graduating from university is an exciting time!
You developed strong knowledge and abilities in your degree, and now it's time to bring those qualities to the workplace.
Our Professional Edge program is designed to translate the knowledge you learned in your undergraduate degree into tangible, marketable, real-world skills that will ensure you thrive in a business environment.
Employers want to know what value you will bring to their business; this program gives you the confidence and perspective to implement your academic abilities in a fast-paced, real-life, competitive work setting.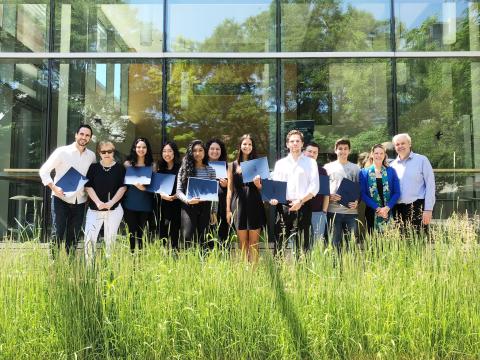 GAIN HANDS-ON, WORKPLACE-RELEVANT SKILLS
Learning outcomes are different depending on the certificate you choose to pursue, however, each certificate program is designed specifically for recent graduates who want to learn fundamental skills that are critical to excel in today's market.
You will develop:
Hands-on skills by working on real-life inspired business projects from start to finish
Business acumen
Important workplace communication skills (both written and presentation)
Effective resume writing abilities
Strategic networking skills
The ability to nail an interview
An online profile that stands out from the crowd and highlights the unique value you will bring to an organization
LEARN FROM EXPERTS
Instructors at SCS are experts in their field who are passionate about sharing their knowledge, tips for success, and lessons learned over the years. By turning theory into action, your instructors will show you how to implement and enhance your teamwork, communication, and strategic thinking abilities in a work environment.
THE EDGE EXPERIENCE
This program is open to everyone, however, it is designed specifically for recent grads seeking an intensive, full-time program to develop job-ready skills.
You can expect:
Open enrollment with no admissions process
To be in class, on campus, every day for four weeks
Take-home projects and online resources
To work independently and within a dynamic team (mimicking a work environment)
A variety networking opportunities
Small class sizes so you can connect other learners who are equally as motivated
Upon successful completion, you will receive a University of Toronto School of Continuing Studies Certificate, an important credential to back up the knowledge and skills you have already worked so hard to develop
Take the next step towards your future. Register now before spaces fill up!
U of T's Career Exploration & Education will provide career-ready workshops throughout the program. These workshops will help all learners to develop a stellar resume, learn skills that will prepare you to knock it out of the park in an interview and create a professional online profile that stands out from the crowd." 
Course Spotlight
{{ course.d_course_name }}