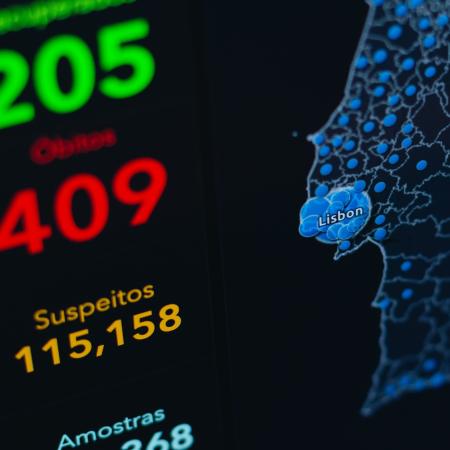 "Data analysis is crucial to understanding the dynamics of a threat such as COVID-19" - Larry Simon
Governments and health organizations need powerful tools to fight an invisible foe like COVID-19. In addition to cooperation from communities and the expertise of medical professionals, one of the most vital tools we have is the ability to quickly and effectively collect and analyze information. 
That's where data science comes in. As SCS data science instructor Larry Simon explains: "Data analysis is crucial to understanding the dynamics of a threat such as COVID-19.  We can't see it, so we need to infer how it's transmitted by observing data about people's interactions and habits."
For example, key factors like the number of additional people that will be infected by each person while they are infectious tell us how quickly the total number of people affected will grow, and how much control is required to dampen that growth.
Statistical analysis is also crucial to understanding how much of an impact the crisis will have on the economy and government deficits.
According to Simon, data analysis can also help us to discover whether there are multiple strains of the virus with different characteristics. "Similarly, there may be genetic differences that make some populations more susceptible than others," he says. 
One of the challenges of using data science to help combat a pandemic like COVID-19 lies in the accuracy of the data itself. "There are no doubt people who have had COVID and recovered but haven't reported it.  This represents a systemic bias which would cause underreporting of cases and overreporting of the likelihood of dying as a result of contracting COVID," says Simon. "Even more so with asymptomatic cases."
Another challenge is the possibility of countries either not releasing their data or altering what they do share publicly or with other governments. 
As with almost any data collection, there is also the issue of privacy. Simon says that particularly in Western cultures, personal privacy of great concern for people, which can make it difficult to implement automated monitoring and reporting. "If people were willing to give up some privacy and share more health-related data in real time, such as through smart watches, track-and-trace could be much more effective," he says. 
Still, data science has been used in some impressive ways to help stop the spread of COVID-19. "The most amazing thing has been the use of Machine Learning to speed up the discovery of potential treatment drugs and vaccines. "Sophisticated modelling and distributed computation is allowing far more rapid medicine development. During the pandemic many home computer users allowed their machines to be used over the Internet to do the huge number of calculations necessary to predict how COVID proteins fold." Simon says. "Hopefully we'll learn from the experience and invest in having testing capacity available on demand for future challenges."
Larry Simon is an entrepreneur, management consultant, and angel investor, specializing in IT strategy and data analytics. He has over 30 years of experience advising startups, global corporations, and government institutions. He is the founder and a Managing Director of Inflection Group. Prior to this he was a Partner with Ernst & Young Consulting, their CTO and National Director of their strategy and delivery centres. He has previously served on the faculty of the Rotman School of Management, as the Head Judge of the Canadian Information Productivity Awards (CIPA), and as a Councillor of the Institute of Certified Management Consultants of Ontario. Simon holds an MBA from the University of Toronto, and a B.Math (Computer Science) from the University of Waterloo.
Simon teaches Foundations of Data Science, Deep Learning, and Intelligent Agents & Reinforcement Learning at the University of Toronto School of Continuing Studies.