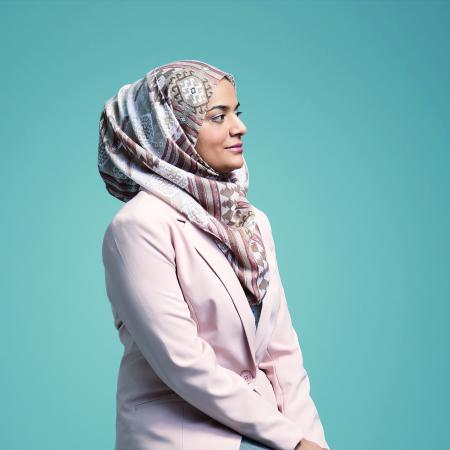 I would love to work in the automotive sector—I want to be on the floor. I'd like to do something that isn't a typical office job.
As an internationally educated mechanical engineer, Samreen Fatima faced many challenges moving to Canada and entering the workforce. Adjusting to a new language and culture was the first hurdle, but there was also the question of obtaining her P.Eng., a license required by the Government of Canada for any engineering work that serves the public.
In Ontario, P.Eng. candidates must fulfill a set of course requirements, pass intensive exams and have 48 months' proven work experience (12 of them in Canada). Luckily for Fatima, the Professional Engineers of Ontario (PEO) provided financial assistance for the academic component, through SCS' Licensing International Engineers into the Profession (LIEP) program. "Being new to Canada, you're not in a financial position to pay full fees, because you can't work," says Fatima, who arrived from Pakistan in 2015 with her husband, also an engineer, and two children.
With help from expert instructors and the LIEP program's flexible, part-time class schedule, Fatima passed all four of her required technical exams: Fluid Machinery, Applied Thermodynamics and Heat Transfer, Engineering Economics and Environmental Control. Her Fluid Machinery instructor, Dr. Hamideh Parizi, guided her through the material covered by the exam and more, offering support and advice along the way. "She taught us everything we had to know, going into the concepts, rather than simply the exam prep," Fatima says. "Anytime we needed help outside class time, she was available by email and text. It was because of her that I passed."
Parizi, who holds a Ph.D. in Mechanical and Industrial Engineering from U of T, is Vice President of Simulent Inc., a U of T spin-off company specializing in software development and consulting in the field of computational fluid dynamics. Being taught by a female engineer was encouraging for Fatima, who didn't have many role models in Pakistan, especially as a working mother. Of her graduating class of 220 students at NED University of Engineering and Technology in Karachi, only about a dozen were women. "The supports for women are lacking there," she says. "I had a job in my hands as soon as I graduated from engineering school, but I had to quit once I got married and had my son."
"In Canada, the availability of maternity leave and daycare make a huge difference," Fatima says. Through the LIEP program, Fatima also benefited from networking opportunities, attending job fairs and workshops. "Networking can be a challenge when you're new to Canada—when you're in a different culture, there are many small hurdles that you have to overcome," Fatima says.
As she prepares for her final licensing exam, the Professional Practice Exam (PPE), while interning at an engineering firm, Fatima is confident that she'll find a job she loves. "I'd like to apply for a job as a research assistant, because I enjoy continuously increasing and enhancing my knowledge," she says. "I would also love to work in the automotive sector—I want to be on the floor. I'd like to do something that isn't a typical office job."