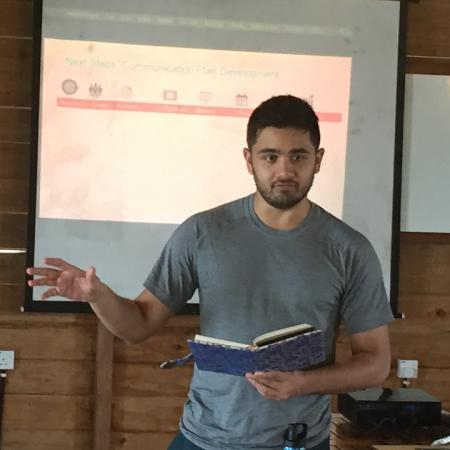 There is no question in my mind that this is the time to upskill and adapt to our rapidly changing world.
"The technology industry is evolving faster than we could ever imagine" says Saumil Bapat. "Between automation and shifts in the job market, there's a huge demand for employees with machine learning, AI, and full-stack skills. I want to be in high-demand, so I came to SCS."
Saumil recently completed our Coding Boot Camp, and is currently enrolled in our Data Analytics Boot Camp . After graduating in 2010 with a degree in Engineering Science from the University of Toronto, Saumil began his career in engineering consulting. In 2011, he made a transition to the tech industry, landing a job at Salesforce. He is currently part of their consulting team.
"I was working on a project a while back with a major client, building a cutting edge advertising delivery platform. On the back end, it was very complex" reflects Saumil. "I realized that a lot of tools and strategies had really evolved since I earned my undergrad degree. So I started exploring continuing education options. I wanted to learn in a hands-on, collaborative environment."
Saumil chose to pursue part-time studies in our IT Boot Camp program, attending classes two nights a week, and every Saturday morning for 24 weeks. "It's a big commitment, but my employer is very supportive of my efforts. I'm learning from industry experts, and I'm able to ask questions and engage in meaningful conversations with my peers" he says. Saumil's classmates come from a variety of backgrounds. "My peers range from chefs who are looking to make a big career change, to others in the tech industry looking to upgrade their abilities. It makes for a really diverse learning environment" says Saumil, who plans to pursue our Certificate in Mobile Business Technologies and Applications next.
As his skills grow, Saumil is confident that he is becoming more versatile in the ever-changing tech landscape. His goal is to gain the ability to envision a project, and create it successfully from the ground up. Saumil acknowledges that it can be challenging to keep your skills up-to-date when you are working full time. "It's a lot, but it's worth it. I am learning to tackle problems that most others can't. It's given me an edge," he says. "You have to be fully committed and mentally prepared for these Boot Camps. But if you are passionate, it doesn't feel like a burden. I look forward to every class. There is no question in my mind that this is the time to upskill and adapt to our rapidly changing world."
SCS Boot Camps are presented in partnership with Trilogy Education Services. To learn more, visit our designated Boot Camp page.