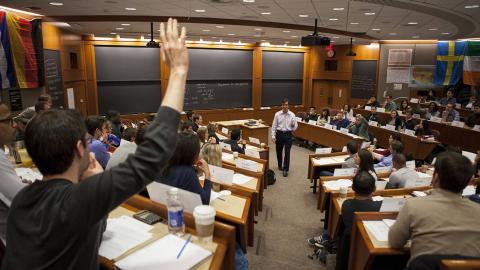 THE VALUE OF CONTINUING STUDIES
University-based continuing studies provide learners with the perfect balance of academic rigour and applied skills instruction. The University of Toronto School of Continuing Studies (SCS) offers an unique learning experience within the higher education setting. In fact, most of our courses, while grounded in academic and theoretical roots, are designed to complement the knowledge you may have already acquired in your work, or developed through previous schooling.
Working directly with industry experts, professional associations, subject matter experts, and academic faculties, we take great care to determine which courses and certificates to develop, and what learning outcomes should be achieved upon completion.
AT THE PULSE OF THE MARKET
Our course and certificate development process typically begins by identifying a need or a gap between the skills employees possess, and the competencies employers are looking for. Through conversation with industry experts, independent market research, connections with academic faculties, and our own extensive data sets, we gain a solid and thorough understanding of industry needs, emerging trends, and skill gaps, allowing us to create course content that is current, relevant, and that addresses specific and timely needs.
The evolution of a continuing education course
Our courses vary in presentation and format. For instance, courses may include or follow a textbook, while others may include original content developed specifically for the course. Others still may include a combination of resources (readings, slides, videos, activities) and interactive elements to appeal to a wide range of learners.
Regardless of structure and audience, all of our courses and certificates follow a strict academic quality process and are approved by the SCS Academic Program Council. In all cases, our courses are managed by a team of Program Directors who develop the program strategy, oversee academic quality, and manage instructor relations.
We strive for balance and representation when creating course content, and seek out multiple perspectives to ensure a richer course experience. When  determining the structure, format and timing of a course, we take into consideration several factors, including:
Professional standards and certifications
Timing of professional exams
The target audience of the course
Any newly identified industry needs
We listen…
In addition to listening to what is happening out in the world of work and leisure, we are listening to you, our learners. Your feedback and ideas are central to our work and inform so much of what we do. Learning is a partnership and as a learner, you can help shape the course experience. Here's how we listen:
We gather feedback once or twice during a course (depending on the length of the course). We consider all course evaluations to understand what is going well and where we can improve. 
We are constantly revisiting course content and updating it to ensure it meets learner needs. We read all feedback and incorporate changes where possible.
What to expect
Here are a few things you can expect you can expect when you register for a course at SCS:
Once you sign up, you will learn what you need to do ahead of time – such as purchasing a textbook or buying a course pack
Before the course starts, you will receive a welcome email informing you how you can access your course materials online (if your course uses Quercus – the University of Toronto's online learning management engine)
Within the first two weeks, you will have a clear picture of how the course will unfold, giving you time to decide whether or not the course is the right fit for you
Over the duration of the course, you can expect a mix of learners, a professional instructor, and a structured course experience – whether you're learning in-class, online, or in a hybrid format
Depending on your course, there may be discussions, activities, group work, lectures, webinars, guest speakers, or field trips
In some cases, you may have tests, exams, final projects, or group work
A detailed course outline, which you should receive on the first day. The outline will cover the structure, flow, expectations, assignments, and assessments for the course
A positive learning experience! Expect to make new connections and to expand your horizons