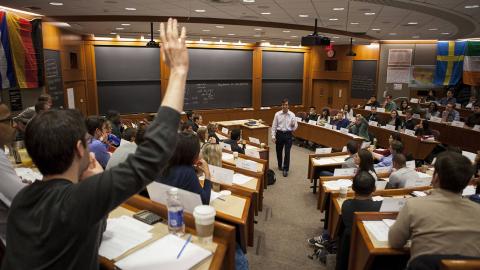 JOURNEY FORWARD 
Willing to take a chance?
We're here for you. SCS provides the perfect balance of academic excellence and applied skills instruction. This means you get a unique, hands-on learning experience within a higher education setting, empowering you to take your career in any direction you choose, explore new horizons, and unleash your creative potential. We are constantly working with industry experts, professional associations, subject matter experts, and academic faculties to provide learning opportunities that will challenge and change you.
DESIGNING THE FUTURE
Our courses and certificates are expertly designed to help you discover your greatness. The development process typically begins by identifying a need or a gap between the skills employees possess, and the competencies employers are looking for. Through conversation with industry experts, independent market research, connections with academic faculties, and our own extensive data sets, we gain a solid and thorough understanding of industry needs, emerging trends, and skill gaps. We also assess learner interests to identify new trends or topics worth exploration. The result is cutting-edge, innovative course content that empowers you to unleash your potential.
EMPOWERING LEARNERS
Our course offerings are constantly adapting and growing to provide you with the skills and knowledge you need, now. Courses vary in presentation and format, depending on the content and instructor style. For instance, some courses  follow a textbook, while others include original content developed specifically for the course. Some involve a combination of teaching methods such as readings, slides, videos, and interactive activities. Regardless of how a course is structured, they all follow a strict academic quality process, and are designed with your personal and professional growth in mind.
We strive for balance and representation when creating course content, and seek out multiple perspectives to ignite your curiosity. When determining the structure, format, and timing of a course, we take into consideration several factors, including:
Your needs as a learner
New industry needs
Professional standards and certifications
Timing of professional exams
YOU TALK, WE LISTEN
In addition to listening to what is happening out in the world around us, we are listening to you, our learners. Your feedback and ideas are central to our work and inform so much of what we do. Learning is a partnership, and as a learner, you help shape the course experience. Throughout your studies with us, we check in and evaluate what's going well, and how we can grow. Also, we are constantly updating and advancing our course content to ensure you stay on the leading edge.
What to expect
Your courage and curiosity have brought you here. These are a few things you can expect along your journey:
Once you sign up, you will learn what you need to do ahead of time – such as purchasing a textbook or buying a course pack
Before the course starts, you will receive a welcome email informing you how to access your course materials online (if your course uses Quercus – the University of Toronto's online learning management engine)
A detailed course outline, which you should receive on the first day. The outline will cover the structure, flow, expectations, assignments, and assessments for the course
Over the duration of the course, you can expect a mix of learners, a professional instructor, and a structured course experience – whether you're learning in-class, online, or in a hybrid format
Depending on your course, there may be discussions, activities, group work, lectures, webinars, guest speakers, or field trips
In some cases, you may have tests, exams, final projects, or group work
An opportunity to make new connections, both personal and professional
A learning experience that takes you out of your comfort zone as you design your future