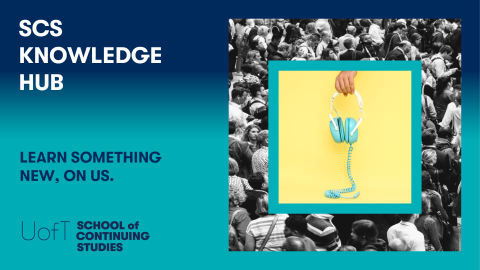 How we all work and learn has been changing rapidly. SCS wants to support you through this evolution. We recognize that in addition to new assistance options for online learners whose finances were impacted by COVID-19, there is an appetite from our learners for content to help explore new territory, engage your minds, and learn skills and ideas you can apply to your lives and careers now. 
We reached out to our community of learners to get a better idea of just what kinds of content and the topics you would like to gain insight into. We asked, you responded, we listened. The UofT SCS Knowledge Hub series is the result. 
See 'Knowledge Hub Live' below for all of our upcoming live webinars or explore 'Knowledge Hub On-demand' to find engaging pre-recorded content. 
Our Knowledge Hub Live sessions are exactly that: live! Hosted by a member of the SCS team, these presentations are delivered by one of our industry-expert instructors. These webinars are designed to address challenges we face now with up-to-date insights into your most requested topics. This is your chance to connect with like-minded people, ask questions and receive expert advice in real time.
Our upcoming webinars are: 
We know commitments to work, family, and friends mean that life is busy. If you are looking for ways to learn new skills, feed a curiosity or support your career on a schedule that meets your life, the UofT SCS Knowledge Hub On-demand might be just the solution you are looking for. Want to learn more? Sign up to have access to a breadth of content, prepared by our leading instructors.
Knowledge Hub webinar recordings
Q&A with THE instructors
University Lecture Series