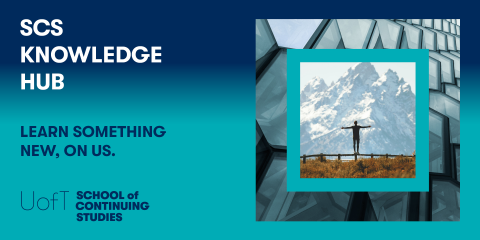 How we all work and learn has been changing rapidly. SCS wants to support you through this evolution. We recognize that in addition to new assistance options for online learners whose finances were impacted by COVID-19, there is an appetite from our learners for content to help explore new territory, engage your minds, and learn skills and ideas you can apply to your lives and careers now. 
We reached out to our community of learners to get a better idea of just what kinds of content and the topics you would like to gain insight into. We asked, you responded, we listened. The UofT SCS Knowledge Hub series is the result. 
See 'Knowledge Hub Live' below for all of our upcoming live webinars or explore 'Knowledge Hub On-demand' to find engaging pre-recorded content. 
Our Knowledge Hub Live sessions are exactly that: live! Hosted by a member of the SCS team, these presentations are delivered by one of our industry-expert instructors. These webinars are designed to address challenges we face now with up-to-date insights into your most requested topics. This is your chance to connect with like-minded people, ask questions and receive expert advice in real time.
Our upcoming webinars are:
We know commitments to work, family, and friends mean that life is busy. If you are looking for ways to learn new skills, feed a curiosity or support your career on a schedule that meets your life, the UofT SCS Knowledge Hub On-demand might be just the solution you are looking for. Want to learn more? Sign up to have access to a breadth of content, prepared by our leading instructors.
Knowledge Hub webinar recordings
Fake News - What It Is And How To Spot It presented by Kevin Temple - Get practical advice to assess the veracity of information and recognize fake news.

Story of Agile - Trends and Insights presented by Joanna Tivig - Learn about the trends shaping the future of Agile, and what organizations are doing to have successful transformations.

A Mindful Approach to Well-Being presented by Arunas Antanaitis - Explore the essentials of mindfulness.

Navigating the Job Market During COVID presented by Alex Gallacher - Learn how to land that dream job in today's turbulent times.

Stoicism - Strategies for Resilience and Joy presented by Dr. Ranjini George - Find out how this ancient philosophy can improve your life.

Marina Nemat Award Reading presented by Lee Gowan, Program Director, Creative Writing - Watch readings from the finalists and the winner of Marina Nemat Award in Creative Writing.

Managing Your Money in a Crisis presented by Ellen Roseman - Learn how make the best out of your financial situation of today and tomorrow. 

How to Launch a Podcast on a Budget From Home presented by Fatima Zaidi - Find out how to launch a podcast in 10 steps without breaking the bank.

Mindfulness in an Exponential Age presented by Jay Vidyarthi - Learn how to apply mindfulness techniques to manage technology use habits in daily life
My Bot's Better Than Your Bot - Understanding AI presented by Martin Waxman - Explore the opportunities and risks of Artificial Intelligence.
2020 Janice Colbert Poetry Award Poetry Reading presented by Lee Gowan, Program Director, Creative Writing - Watch poetry readings from each of the three 2020 Janice Colbert Poetry Award winners; Jane Macdonald, Anna Lee-Popham, and Diane Massam.
Fearless Networking presented by Jean Chow - Learn how to be a confident and successful networker.
Leading Remote Teams in Uncertain Times presented by Joe Ogilvie - Find out how to be an outstanding leader during times of remote work. 
Writing Compelling Copy in 2020 presented by Samantha Mehra - Gain insight into how to write persuasive, effective marketing and communications materials in 2020.
Content Marketing in Tough Times ​​​​​​​​​​​presented by Alison Garwood-Jones - Learn how Canadian brands are responding to tough times with content designed to connect and align with their audience's lifestyle, values, and beliefs.
Q&A with THE instructors
University Lecture Series