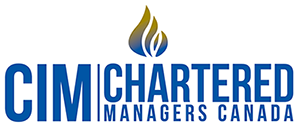 CIM | Chartered Managers Canada is the leading professional association in support of Canada's Chartered Managers through certification, accreditation, and professional development. As the voice of Canada's Chartered Managers, the association provided leadership on issues affecting the management profession in Canada, increasing awareness of management as a profession.
As a chartered not-for-profit association, it operates through a Head Office and 14 Chapters across Canada and has provided management development and certification to over 80,000 managers since its founding.
SCS learners taking one or more of its CIM-recognized courses are eligible for the free CIM Student Associate Membership. This membership allows you to join a national network of learners dedicated to management professionalism, while demonstrating your commitment to your education and future career. This no-fee membership opportunity is available to you now, and as you continue your studies, and learners can opt-out at any time. Register with CIM directly by completing the Student Associate Membership form; SCS is not sharing any learner information with CIM. Check out the complete list of SCS's CIM-recognized courses by clicking the C.I.M. and the C.Mgr. designations. 
For more information, please visit: CIM|Chartered Managers Canada