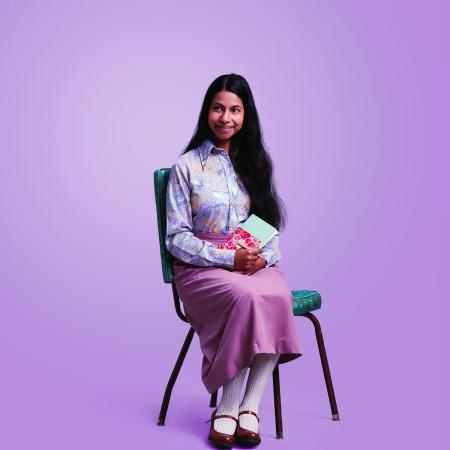 A poet refines her craft in Creative Writing classes.
Poetry is in Laboni Islam's DNA. Her literary roots reach across continents. Born in Canada to Bangladeshi immigrant parents, her maternal grandfather was an English professor with a love of Shakespeare, and her maternal grandmother was a novelist, poet and translator.
From her very first creative stirrings— at age four, she made up a short poem about her father cutting the grass— words have fascinated her. "From a young age, I knew language was a very powerful vehicle," she says. "It can bring such joy."
Despite her family history, Islam's journey to becoming a published poet wasn't a straight line. "I think of my career path as more of a web," Islam says. Trained as a teacher, she spent several years at an elementary school before taking her current job as Education Officer for Children and Youth at the Art Gallery of Ontario (AGO), helping young learners create and understand art.
While she loves engaging kids in conversations about creativity, the urge to write poetry grew stronger. In 2010, she enrolled in her first Creative Writing course at SCS, "From the beginning, I knew I wanted to commit to earning the full certificate, to hold myself accountable," she says.
She quickly overcame her initial hesitancy at sharing her first poem with the group. "The response was positive, validating, and all the encouragement I needed," she says. Studying with established, award-winning writers such as Catherine Graham, Ken Babstock, and Karen Solie, Islam gained valuable experience workshopping her poems. The feedback process, while intimidating at first, instilled habits that strengthened her creative muscles. "I learned to revise, revise, revise," she says. "Poetry is a language, and by immersing myself, I gained fluency."
 In 2015, Islam completed her Certificate in Creative Writing at SCS, her courses ranging from poetry to prose and playwriting. Her poems have appeared in literary journals such as Canthius and Wildness, as well as The Unpublished City Anthology, curated by Dionne Brand. She is the recipient of two SCS awards: the Janice Colbert Poetry Award (2014) and the Marina Nemat Award (2016), and was shortlisted for the 2017 CBC Poetry Prize.
She is currently working on her first collection of poems and teaches occasional writing workshops at the Aga Khan Museum, where she also serves as an Educator. Islam owes her newfound confidence to the supportive environment of SCS. Her classmates ranged from undergraduates to retirees to professionals juggling day jobs, but their common bond was a love of the written word. "I felt like I became part of a community of writers," she says. "We learned so much from each other."