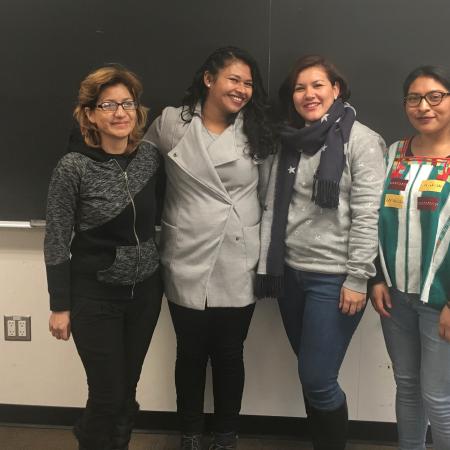 "When you get this kind of opportunity, you take the risk. With risk, you learn."
When Sara Leticia García Poo was offered the opportunity to travel from her Mexican community to study English in Toronto, she jumped at the chance. "When you get this kind of opportunity, you take the risk" she says. "With risk, you learn."
As a recipient of the Consejo de Ciencia y Tecnología del Estado de Chiapas (COCYTECH) scholarship, Sara and eleven other women attended a month-long learning intensive in the English Language Program (ELP) at the University of Toronto School of Continuing Studies (SCS). The scholarship, which is offered by the State of Chiapas, supports indigenous women who are pursuing Master's degrees.
Sara grew close with other COCYTECH recipients, including Amarantha Lizeth López Méndez, Mari Cruz Ruiz Cortina, and Tania Gómez Guillén. All four women found it difficult to leave their families, but collectively knew this was the chance of a lifetime; the opportunity to learn a new language while being immersed in a foreign culture is rare for indigenous women in their community.
"Being a mom, being a professional, and a local woman from Mexico, it's difficult to get opportunities like this" explains Sara. "We don't have the personal budget to be here, so this scholarship is great. We are examples for other women and for our children."
The language barrier was intimidating at first for Amarantha. Working with her English for Effective Communication instructor Lorenzo Sclocco, who won the 2017 Excellence in Teaching Award, her skills steadily improved. She valued the unique opportunity to meet other learners from around the world, and found a new confidence. "U of T taught me a different perspective" she says. "I have learned to believe in me, in my options."
For Mari Cruz, visiting Toronto marked the first time she had ever travelled outside of Mexico. At 43, this was an exciting opportunity, but also meant personal sacrifice. She struggled to be away from her children, however Mari Cruz knew she was setting a strong example for them. "They watch me, and they are proud" she smiles. Tania adds that their experience speaks to the power of lifelong learning, and its capacity to unlock new experiences and inspire self-assurance.
Having returned to Mexico, the women are excited to incorporate their new English language skills into their educational pursuits. Tania finds her new grasp of English helpful as she pursues her Masters degree in tourism, because she is now able to communicate with English-speaking visitors. Sara and Mari Cruz plan to incorporate their new language abilities into their pursuit of a Master's of Education, while Amarantha is finding unique ways to apply her English skills as she explores a Master's in Biochemistry.
Leaving their communities meant taking a chance on the unknown, but these four women agree coming to SCS was the right choice.
 "It's been a dream" says Sara. "For us, it's been a dream".