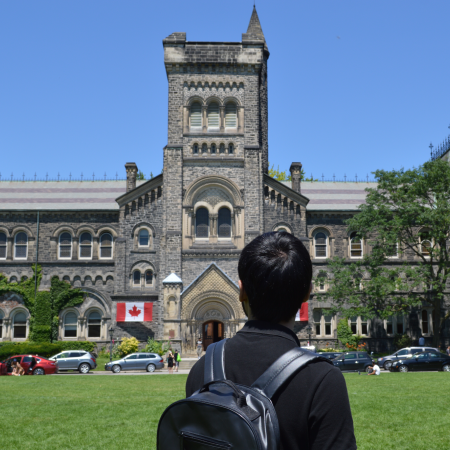 "Academic English has been a fantastic introduction to academic life here in Canada. It has helped me build a solid path to reach my goals." - João Haetinger, ELP learner
Learning English is a gateway to opportunity. The Academic English Program in our School of Continuing Studies' English Language Program (ELP) is designed to help English language learners improve their use of academic English. Learners from all over the globe develop the skills needed to share ideas, and communicate in an academic context. Successful completion of the highest level of Academic English (Advanced - Level 60) satisfies the language requirement for admission to most degree programs at the University of Toronto, setting up learners for success in their undergraduate and graduate studies. 
What makes this online program different? First, we design and develop all our materials in-house, and they are distinctly tailored to the needs of our learners. We focus on teaching "real" English; learners gain the skills and strategies needed to understand and respond in both academic and non-academic contexts. We go beyond traditional textbook learning, and ensure our learners gain the ability to express themselves and interact successfully in a university setting. 
Our online classes attract learners worldwide. In fact, our most recent class included learners from 11 different countries: Benin, Brazil, Cameroon, China, Ethiopia, Haiti, Honduras, Iran, Korea, Kuwait, and Togo. The online format - which includes classroom learning, small group tasks and discussion in breakout rooms, learner engagement activities, and instructor office hours for one-on-one feedback and support - allows for a truly interactive learning environment.
According to Academic English instructor Catherine Lawton Donnelly, offering challenging and innovative material in her digital classroom is a top priority. "Teaching an integrated skills program allows me to change it up and use a variety of activities. This helps to keep everyone focused and motivated, and the out-of-class activities that are assigned give learners the opportunity to collaborate," says Catherine. "My classrooms are dynamic and engaging. It's not only me who brings energy to the classroom, but also the learners! Each learner brings their unique background, knowledge, and experience to classroom activities (and do so with great enthusiasm)! They create vibrant conversation about their varied world experiences, contributing their insights and perspectives."
Catherine also creates an open and inviting learning space. "Many learners have commented that the online environment is a comfortable, safe place where they can voice their opinions," reflects Catherine. "Some learners have even referred to our online classroom as our 'living room'. This speaks to their comfort level, and the fact that they feel confident participating and trying new things in class. Time and time again, learners have expressed their enthusiasm for the program. It is one step toward fulfilling their goals."
João Haetinger of Brazil, who successfully completed Academic English Level 60 and is now studying theology at U of T's Regis College, agrees that the program has helped set him up for success. "Academic English has been a fantastic introduction to academic life here in Canada. It has helped me build a solid path to reach my goals," says João. "The classes were personalized and fun. There was one-on-one and group learning, and practical exercises in pronunciation, grammar, and text comprehension. I also got to connect with other learners from around the world; this experience helped me understand how diverse and rich the Canadian academic setting is." 
In addition to developing academic communication and presentation skills, learners use strategies and techniques to improve reading and listening, write clearly about complex subjects, and expand their vocabulary. But this program has also helped learners who are motivated to learn English to thrive outside of a traditional academic setting. "As an artist, one of the primary sources to make an income is grants and awards from different art organizations and institutes," says Azadeh Pirazimian, an Iranian Canadian multidisciplinary artist and art instructor based in Toronto, who recently completed the program. "Before completing the Academic English Program, I did not have enough self-confidence to apply for these grants and write the proposals because my writing skills were not adequate. But the writing work I completed during the program has allowed me to improve my skills, and I recently applied to a paid exhibition with confidence. This program has opened the gate to my future."
Regardless of learners' future goals, the Academic English Program can help accelerate their path to success.