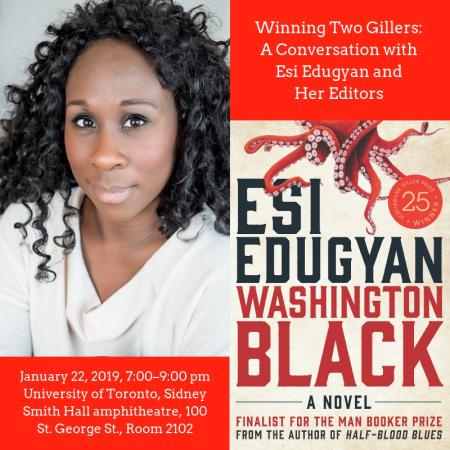 A conversation with Esi Edugyan and her Editors.
When: January 22, 2019, 7:00–9:00 PM
Where: University of Toronto, Sidney Smith Hall amphitheatre (Room 2102), 100 St. George St.
Co-presented by Editors Toronto, Canadian Authors–Toronto, and the Creative Writing Program at the School of Continuing Studies, University of Toronto.
This special event will bring acclaimed Vancouver novelist Esi Edugyan together with four of her editors — Patrick Crean, John Sweet, Marie-Lynn Hammond, and Jane Warren — for a discussion about the writing and editing of Ms. Edugyan's two Giller Prize winning novels, Half-Blood Blues (2011) and Washington Black (2018).
Free for members students, faculty, and staff in the Creative Writing Program. All proceeds will go to the School of Continuing Studies' Creative Writing Bursary to assist writing students.