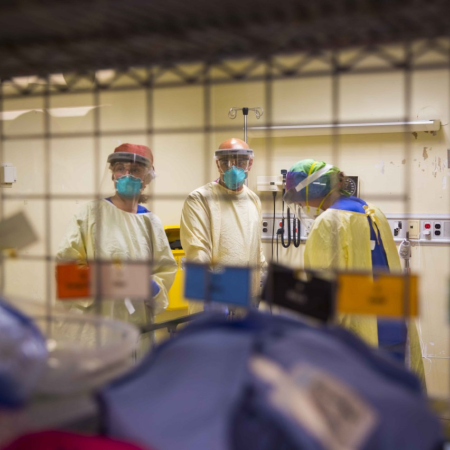 ER Dr. Dawn Lim writes about her colleagues' compassion and dedication 
Former School of Continuing Studies Creative Non-Fiction student and Toronto ER doctor Dawn Lim has put her writing skills to work on a piece for MacLean's magazine, sharing a glimpse of what work is like for her and her colleagues on the front lines of the COVID-19 pandemic in Toronto.  
The piece is accompanied by photographs Lim says she has taken to document "the day-to-day pulse of the UHN" and to provide herself with some sense of control during the pandemic. One of the photos, a powerful image of medical staff intubating a patient, is the cover photo for the June 2020 issue of the magazine. 
"Healthcare workers don't often get thanked. When I was at the height of my professional burnout, storytelling helped me heal," Lim says of her decision to document and share her experience. "When this pandemic is finally over and we feel tempted to move on and not look back, I hope this photo essay will give us a chance to pause and reflect on the work we did--to really acknowledge to ourselves that the work we do is valuable. I feel incredibly grateful that I was able to share our story with Canadians."
Click here to read Lim's piece and see her the rest of her photos featured in MacLean's: https://www.macleans.ca/society/health/i-saw-fleeting-moments-no-one-remembers-one-er-doctors-photos-from-the-coronavirus-frontlines/  
*Photo by Dawn Lim