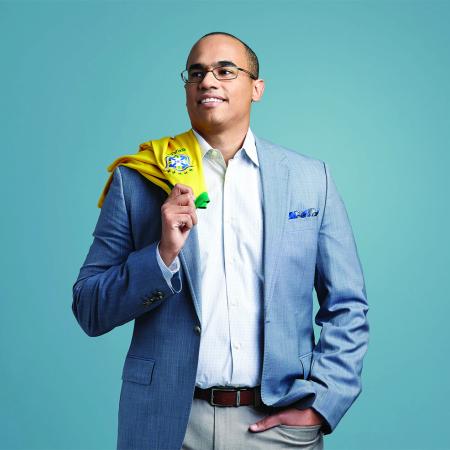 "At U of T, my instructors were open to connecting outside the course work, which isn't always the case with other schools".
For Rafael Lopes, relocating from Brazil to Canada opened exciting new career possibilities in the field of human resources. Having been a manager at Odebrecht, a major Brazilian conglomerate with operations in over 15 countries, he had extensive experience in HR technology and talent management. He had also lived in Michigan for five years as a child, giving him both language and cultural fluency.
After relocating to Toronto in May 2015, Rafael wanted to quickly re-enter the HR field, but he felt he needed to understand the particularities of the Canadian workplace. "That's what led me to the School of Continuing Studies," he says. Shortly after his arrival, he enrolled in online courses in Human Resources Management and Compensation at SCS. "The instructors were phenomenal at providing guidance and advice to fellow HR professionals, especially those with international backgrounds." Not only did the courses fulfill some of the academic requirements of the Certified Human Resources Professional (CHRP) designation, the courses were valuable networking avenues that eventually landed him a job at Scotiabank, where he currently works as HR Reporting and Analytics Manager.
"At U of T, my instructors were open to connecting outside the course work, which isn't always the case with other schools," Lopes says. "They were really helpful and knowledgeable in the field."
Not having many business contacts in Toronto, he learned to leverage his LinkedIn network for connections. "In Latin America, it would be very odd to reach out to a cold contact over LinkedIn and ask to connect over coffee," he says. "Here, everyone does it. It was a matter of understanding the small differences in the way people network."
After five months of job searching, he came to realize that Scotiabank, with its strong presence in Latin America, would be an ideal employer for him. "Through connections with my instructors, I ended up meeting someone at Scotiabank who would become a colleague in the bank's HR department, as well as a Director who happened to be from Salvador, my hometown in Brazil," Lopes says.
As an HR professional, Rafael has always been fascinated with how businesses operate and deliver value. "Success is rarely just about a product or service—it's a question of 'Do we have the right people? Are we creating the right environment to help them thrive?'" His work in the emerging field of HR reporting and analytics attempts to quantify some of those answers, rather than relying on assumptions. "My role is to help the bank implement its HR Data Governance program. This will allow us to effectively drive data-driven decision making through our employee data." Lopes says.