On June 25 and 26 the School of Continuing Studies (SCS) held SCS Celebrates, their first ever recognition ceremony honouring learners who earned SCS certificates in 2017.
Over 500 lifelong learners and their families gathered in Convocation Hall to celebrate excellence in continuing education over the course of the two-night event. Learners travelled from across Canada and around the world to join in the festivities and collect their certificates in everything from accounting to creative writing.
University of Toronto Provost Cheryl Regehr and outgoing Vice-President of the University of Toronto and Principal of University of Toronto Scarborough were on hand to join SCS Dean Maureen MacDonald in leading the learner procession into Convocation Hall and congratulating learners and instructors on their achievements.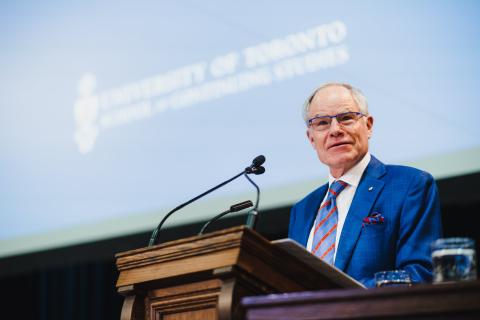 "I have known about the importance of adult education all my life," said Kidd, whose parents and uncle, John Kidd, once the associate director of the department of extension at U of T (the forerunner to the school of continuing Studies) were early champions of continuing education.
"The purpose of education, my father always said, was learning to be, learning to become, learning to belong," Kidd explained. "Like my parents, I know that our society is much richer because of the time and effort that you've put into your classes. Congratulations."