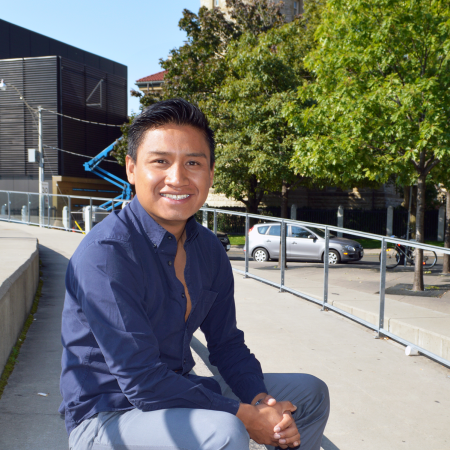 "I tried to be active and use all the resources available to me at the ELP.  I am thankful I used these resources, like volunteering. They got me over the nerves of speaking English and encouraged me to speak with Canadians."
-David Quispe, former ELP student
David Quispe is a former Academic English student at the English Language Program (ELP).  After successfully completing the English requirement for the University of Toronto at the ELP and applying to graduate studies in engineering, he started the Master's in Mechanical Engineering this fall.  He is also a Cultural Assistant at the ELP. 
Since he was a child growing up in Ecuador, David had always wanted to study abroad.  So, while working as an engineer in the oil and gas industry, he saved up, thought about his options, and decided to study in Canada with the goal of pursuing graduate studies at the University of Toronto.
His journey to Toronto began with an email to the ELP.  Then, during an education fair in Ecuador, he had a face-to-face meeting with an ELP Staff member where he learned about the ELP and the University.  After being given a visa to study in Canada, a year later, David was in-class, studying Academic English. 
While at the ELP, David was very active outside the classroom, accumulating over 60 hours of volunteer work and attending many of the social activities on offer.  According to David, this helped him not only in meeting other students but also improving his English. 
"I tried to be active and use all the resources available to me at the ELP.  I am thankful I used these resources, like volunteering. They got me over the nerves of speaking English and encouraged me to speak with Canadians.  I was nervous at first but I became very comfortable," he said.
"Also, the excursions and activities help you make new friends because you meet students from other classes and levels when you go and because you are from different countries, English is the common language.  You share this and become friends and part of a community very fast." 
After his studies, David wants to work in Canada for a few years.  But, the plan has always been to return to Ecuador.
"I want to go back to my country and maybe become a designer or open a factory.  I want to give back to my country," he said.
But in the meantime, he is focused on his studies, which he is approaching with confidence in his English to which he credits his experience and study at the ELP.   
"I met all the international students in my program but I feel like I have an advantage because they are nervous speaking because they have just recently arrived.  But I've been here a year and I am not nervous anymore because I went to the ELP. "